Foam production at WRC outfalls – can you help?
Challenge update Spring 2022: Take a look at our blog post for a detailed update.
Background
At some water recycling centres (WRCs) in the Wessex Water region, foaming sometimes occurs where the final treated effluent discharges into the environment. We have run many suites of upstream / downstream watercourse samples and ecological surveys and found that no environmental damage occurs.
However, these instances can result in loss of amenity value of watercourses for members of the public. Furthermore, foaming events can be classified as Category 3 pollution events, despite not causing environmental damage, and therefore can negatively impact our industry standing on pollution-related metrics.
Resolving this issue would help improve the amenity value of watercourses for our customers, reduce their concerns around river water quality and demonstrate our commitment to lowering our number of pollution incidents.
What are we looking for?
We would like to run a Marketplace challenge to gauge whether the issue is present elsewhere and identify any alternative methods for reducing foam production at WRC outfalls. The ultimate long-term aim would be a reduction in foam-related pollution reporting.
We anticipate solutions would likely fall in the following themes:
Elimination of foam entirely from the river
Significant reduction of foam production
Prevention of impact to amenity for members of the public
We are looking for alternatives to anti-foam, and solutions would ideally be no/low build.
We are already undertaking:
sampling across the WRC process and wider catchment network, specifically looking for detergents that may cause foam generation
modifications to recirculation pumping regime and control philosophy at the WRC, in an attempt to reduce turbulence in the process
and so related suggestions would be less likely to be of interest.
We would also be interested in gaining a greater understanding and knowledge of the causes of foam formation in general, both at our outfalls, and in the wider environment including upstream of our assets.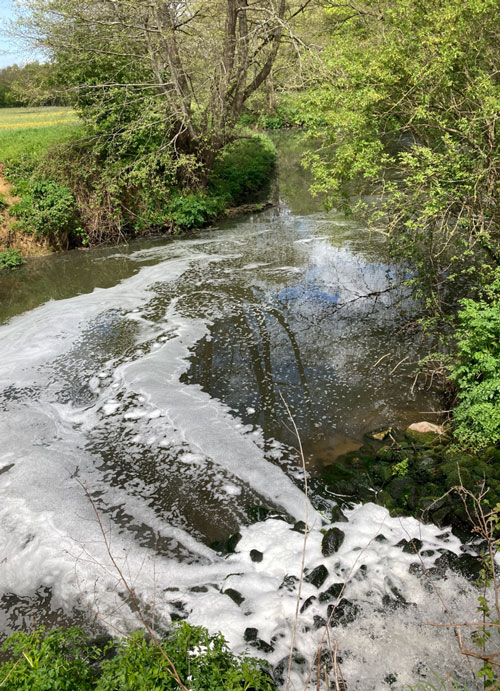 How to get involved
We are very happy to answer any queries you may have in order to consider responding. Please send queries to [email protected] by Friday 19 November 2021. We will respond to them all here (unless there are questions that wouldn't be appropriate to share answers to that may relate to the specific IP of an organisation).
29.11.21. update: The only question received for which we are able to publish the response was regarding availability of CCTV feeds of WRC outfalls  – unfortunately this is not something we are able to provide.
03.12.21 update: The following questions/responses may also be of interest:
Is the problem more prevalent where Chemical P removal is used? Response: It does appear that chemical P removal can increase the prevalence of foam, but it does sometimes occur on sites without chemical P removal.
Does it occur with Aluminium & Iron coagulants? Response: It has been observed with both Iron and Aluminium coagulants
If not is it at ASP (Activated Sludge Plant) type works? Response: The foam has primarily been an issue on sites without ASP
Is it seasonal i.e. more in the winter than summer? Response: We have not observed a seasonal trend.
We then ask for interested parties to submit their proposals by Monday 20 December 2021. Please email them to [email protected]
We ask that submissions are concise at this stage to give our team the ability to review all that come through. Submissions should ideally include the following, where this is available:
Details on the solution proposed
Indicative costs (e.g. previous schemes/case studies, or typical unit rates)
Case studies of any UK/worldwide use
Your expertise in this area
We look forward to hearing from you!
Next steps
We will review all the submissions and see if there are any we would like to discuss and explore further, and feed back to companies accordingly. We'll aim to get back to you by early February but will keep you informed if further time is needed. We also intend to feed back more generally on the challenge via our blog page.
If you want to hear about other Marketplace challenges over a range of areas when they are released you can sign up to our mailing list.
Important points
Taking part in this Marketplace challenge does not guarantee a contract at the end. A tender may be required, and Wessex Water reserves the right to stop the project at any time.