Intelligent sewers; can we make alarms smarter?
This challenge is now closed, but the data is still available to download on the datasets page.  Read our case study to find out the outcome of the challenge.  (You may also find this earlier case study of interest.)
You can also read more in the industry press:  Water Online ;  New Civil Engineer
Following the conclusion of the challenge, Wessex Water and StormHarvester have been shortlisted for the Utility Week Awards 2021 Innovation Award.

Background
With the increased number of monitors in the wastewater network (mostly at combined sewer overflows; a result of the Event Duration Monitoring programme) Wessex Water's Control Room is receiving an increasing number of alarms during wet weather events. Some of these alarms are genuine, whilst others are simply triggering because of the high volume of rainfall in an area.
We want to engage suppliers to carry out proof of concept (POC) trials to demonstrate the value of applying machine-learning algorithms to this alarm data.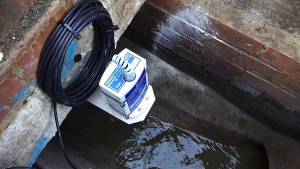 What are we looking for?
Our vision is to develop and maintain intelligent wastewater networks that will provide both real-time and forecast performance information.
Ideally this will enable the prediction and resolution of surcharging sewers before they become service failures (pollution or flooding incidents), but failing that it will deliver a dramatic improvement in response time to service failures.
Currently alarms are generated when depths in sewers reach defined levels – either approaching a spill or at spill level (indicating that sewage is escaping from the network).
During rainfall events these alarms are mostly just verifying high sewer levels and permitted spills at overflows.  However, there is a growing risk that some overflows may spill prematurely due to insufficient capacity caused by issues such as blockages or pumping incapacity.  During wet weather it is currently difficult to differentiate expected spills which occur during heavy rainfall from premature spills that are caused by restrictions in the network, usually caused by (partial or total) blockages.
Smart algorithm-based tools are now available to provide a level of decision support by applying machine-learning techniques to the data from wastewater depth monitors.
We are looking to engage with the market to identify providers who are able to run proof of concept (POC) trials (phase 2) to demonstrate the value of applying machine-learning algorithms to such alarm data. We are proposing to run up to five POCs, with funding of circa £10,000 per POC.
What must the solution provide?
We are looking for a solution that minimises the number of alarms flagged in the control room. During regional rainfall events alarms/alerts will be muted when the system determines that sufficient rainfall has caused the high level to trigger. Only a set percentage of alarms passed through should be false (10% at the start of the POC, 5% after a 3 to 6 month trial window). The POC will run in close to real time. Further information is available here.
How to get involved
We will be having a skype session on the 21 October, 1:15-2:15pm UK time. We invite all interested parties to register; email [email protected] to join.
When requesting a place on the call, please provide a brief summary (max 250 words) of your expertise in this area. In previous challenges we have received high levels of interest and depending on the numbers this time we may to limit engagement to ensure we can fully engage with those who are involved. If this is the case, we will review supplier's expertise to produce a shortlist.
Suppliers will then have until the 22 November to submit their proposals for a POC.
This should include:
A completed response to our minimum supplier obligations.
Details of the system that you propose to use, and any case studies of previous use.
Confirmation that the solution is available for purchase and implementation following a successful POC.
The results you are seeing on your product from the historic datasets provided here: EDM data and SPS data
Confirmation that you are happy with the circa £10k funding proposed for the POC, or your proposed fee
Indicative longer term costs and support
Compatibility with Servelec Scope telemetry system and Microsoft Azure
We will then review the proposals and identify who we would like to take forward to POC stage. Suppliers involved in the POC stage will, amongst other things, be asked to complete our cyber security questionnaire. Feedback will be provided to all suppliers. Timescales for this will be advised  at the end of October when we know how many proposals to expect.