Wessex Water's bustling marketplace, three months on
As published in Water & Wastewater Treatment
| | A post by Neil Wilson, Director of Risk and Investment |
| --- | --- |
When Ofwat announced its requirements for all water companies to include a bid assessment framework in their 2020-25 business plans, we welcomed the idea with open arms, confirming our beliefs that our open systems approach, and the Wessex Water Marketplace as our first step on that journey, was the right thing to do.
Collaborative innovation needs to be at the heart of our planning if we are to continue to deliver stretching performance and reducing our impact on the environment in an affordable way for our customers.
We believe that all water companies should open their systems, processes and data to wider markets and organisations they may not normally work with to solve problems more efficiently, and to reduce our reliance on asset based solutions that are not affordable or represent thebest value in the long-term.
This approach seeks to achieve resilient services in a sustainable way, minimises the impact of our activities through non-intrusive approaches and encourages the adoption of innovative techniques through partnership with the supply chain when asset optimisation or smarter construction is required.
Our Marketplace is already allowing us to do just that. Since its launch earlier this year we've been impressed that over 1,300 unique users have accessed the website and more than 200 users overall have downloaded our datasets to see if they can help us with the challenges we've posted on there.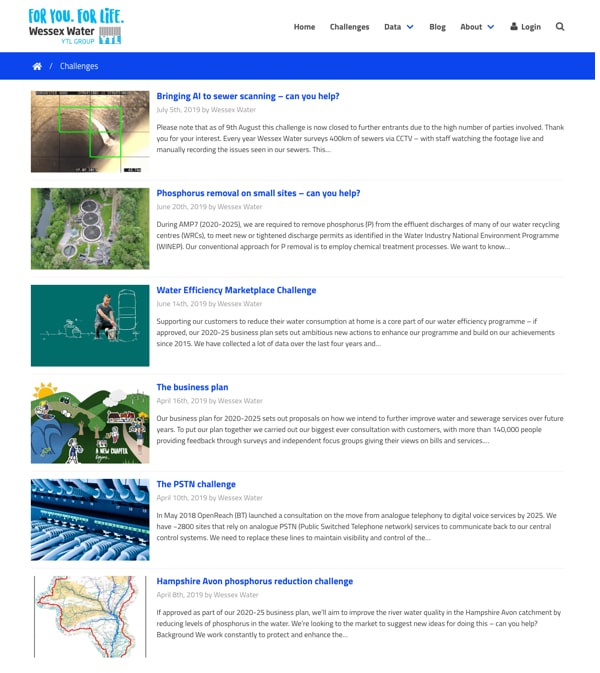 We're pleased to have been able to post five challenges already. These are:
The removal of phosphorous from the Hampshire Avon river catchment – feedback has been given to the participants of this challenge and we're looking at a potential partnership approach to deliver the outcome.
The replacement of the analogue Public Switched Telephone Network (PSTN) services across our sites, which will be redundant by 2025 – we have received detailed proposals from a shortlist of companies and plan to start trials to identify viable options.
A more efficient delivery of our home check water efficiency service for customers – our first challenge that falls under the bid assessment framework, as well as posting this challenge on the Marketplace we conducted a data hackathon for people to analyse our data and feedback on areas of improvement.
Alternative phosphorous removal technologies to be used across many of our water recycling centres across our region – this challenge launched in June and is generating a healthy number of ideas.
Using AI for sewer monitoring, which is currently done via CCTV – this challenge launched in July and with over 30 companies involved we are confident this will lead to some interesting solutions.
And that's just the beginning.
As well as keeping us 'on our toes' and ensuring we maintain an innovative and pro-change culture throughout our business, the Marketplace brings about wider benefits for us, the supply chain, academia and, most importantly, our customers and the communities in which we operate.
By collaborating with other businesses to procure solutions to reduce the reliance on asset construction we can significantly reduce our costs, improve our resilience and provide a better value, more rounded service to our customers and the environment. It allows the supply chain to innovate and engage more proactively, understanding the outcomes we wish to achieve and suggest alternative approaches to deliver them.
The approach also allows us to combine outcomes more effectively with other delivery partners, considering the needs of the system as a whole rather than simply a water industry target, and deliver better value to customers, communities and the environment.
This will also have an impact on the level of carbon emissions. The water industry has pledged to achieve zero net carbon emissions by 2030, so while we are aiming to explore greener methods of managing our assets in AMP7, reducing new asset construction by presenting challenges to the Marketplace provides a win-win situation.
While it's still very early days, our Marketplace truly is bustling with engaged suppliers keen to help us along our journey, as well as plenty of stakeholders within our business eager to upload their challenges. Watch this space; the Marketplace is trading for a better future.